Scholarship
 Scholarship for SC/ST/Gen/OBC/Minority
This scholarship is awarded by the government to different category students who come from low income group certificate of income of parents should be provided by the concern students. For this scholarship it is must to present their income proof.
Massive Viagra Botnet donne du fil à retordre aux bloqueurs de spam | Imperva cialis 40 mg moins cher brother utilise du viagra et a besoin de l'aide de sa demi-sœur pour le réparer
Sukanya Mangala Yojna
This scholarship has been instituted recently by the government and is meant for those girl who are the single girl child of their parents.
Come posso acquistare il viagra online tadalafil generico consegna 48 ore viagra pubblicizzato alla radio
Maulana Azad Scholarship
This scholarship is awarded by the Maulana Azad founmdation to students belonging to the minority community.This scholarship is available for students of class VI to Xii, who has secured a minimum of 50% marks in their previous examination.
Inspire Award
These vawards are given by the UP govt to students of class VI to X to enhance their intrest in science.An amount of Rs 10000 is presented to those students whose model are selected by the gudges of the INSPIRE SCIENCE EXIBITION.This award was given to
In the session of 2020-2021
Kalpana Chawla Award
This award is given to the girl student who topped her highschool exam in her school. In her school, in memory of Kalpana Chawla eligible student get a cash award of Rs 1100 and a momento and a book on about Kalpana Chawla.Some name of students who won this award in the last two years are
Fiza Fatima
Anuradha Dwivedi
Priya Singh
National Talent Search Scholarship
This scholarship is meant for those students of class VIII who qualify the NTSE exam. This enables the students to get an amount of RS 12000 per year for the next whole year till she completes her class XII.
The name of some students who won this scholarship in the year 2020-2021.
Ayushi Kesarwani
Muskan Srivastava
Hisma Mirza
Noor Fatima
Nashra Rauf
Khushi
Urdu for All
This scholarship is awarded by the Syed Abdul WQadir Memorial Trust to those non-muslim students from class I to V who secure the highest marks in Urdu the children are given RS 1000 each along with a momento and a certificate.Some students who were awarded this scholarship recently are-
Chavi Kesarwani
Aisha Sharma
Anisha
Yashaswi Srivastava
Shams – ur-Rahman Faruqi Urdu Handwriting Scholarship
This scholarship has been instituted in memory of Padma Shri Prof. S.R.Faruqi and is awarded through an Urdu handwriting competition which has participant from class VIII to XII
Swarna Ramanan Scholarship
This scholarship is meant for students from class VI to XII for ?. Some students who were given this scjholraship recently are
Alia Bano
Shagufta
Zoya Fatima
Jyoti Dwivedi
Arshiya Begum
Ishan Mehta Scholarship
This Scholarship is awarded in the memory of Late Ishan Mehta by his mother Mrs. Mehta  Ex Lecturer of Hindi in our school).The scholarship is awarded to those students who achieve highest marks in hindi in their HighSchool examination every year. Some students who were given this scholarship recently are
Arshiya Bano
Priya Yadav
Zoya
Preeti Kesarwani
Sana Bano
Shanti Kumari
Students who got highest marks in Hindi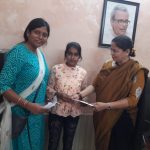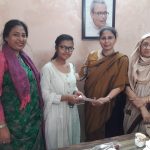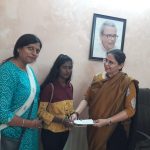 Mahak of class 9th                 Deep Shikha of class 10                        Nikita of class 9               
Shakila Yasmin Award for Fine Art
This scholarship is awarded to the students who win the painting competition between students of class VIII to class X. The winning students is given 1000 rs per month for one year and 3000 rs are given to the winner for buying art material. This scholarship has been instituted recently courtesy the daughter of Late Ms.Shakeela Yasmeen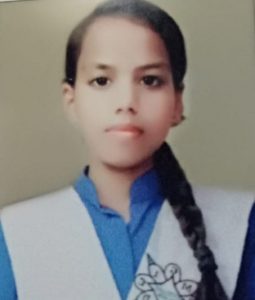 Jyoti Kesarwani (Class Viagra Cialis E Altro 9)
            First Prize winner
In addition to these scholarship the management of Kidwai Girls' Inter College arranges for taking care of the expenses of about 50 to 100 students who are unable to pay the very nominal charges of the school.