The trust has been working principally towards the rehabilitation and education of girls from backward families; most of them are below poverty line and not generally interested in educating their girl children. Very often, especially parents in minority families prefer their girls to work from a young age before they are married off, often to families even more oppressive than their native environment.
Unfortunately, the growth of Kidwai Memorial Girls' Inter College has been retarded because of lack of resources and infrastructure. There has been very little new construction, no effective or major repairs to the existing rooms and facilities. Most of the roofs are still made of asbestos sheets, tin sheets and old-style tiles. The roofs leak all monsoon; electrical fittings are temporary or mostly unprotected; lighting is just adequate. Most of the classrooms have no doors; the furniture is mostly ancient, broken or recycled.
We have tried very hard to garner resources in order to build a decent infrastructure.
Many make shift classes had to be held under the open skies, even in adverse conditions. Finally, some classrooms have been constructed. Many of these rooms still don't have doors, windows and electrical fittings like ceiling fans and tube lights.
The past year has been fraught with struggle for us and we are still striving to have a well-equipped science laboratory. We would require proper rooms with doors and windows as well as flooring for these which dear, donor, at the moment we are unable to meet.
Other plans put on hold for lack of finances include construction of a library, adequate number of toilets, a proper staff room and office space for clerical staff and storing important official documents. All this requires an immediate expenditure of nearly 30 Lakhs.
A narrow and filthy bylane leads to our school. The open drains and manholes pose a serious safety risk to our students. We need to build the road and widen it, clearing it of manholes and unevenness.
All this is principally because of lack of funds.
Please do support our cause of educating girl children and empowering women by donating generously and sharing the information of our fundraiser with your friends and family.
All the funds raised will be spent towards immediate construction of school building, and further development of the school on all fronts.
We and our dear children studying at the school will ever remain grateful for your generous help.
You can send your donations through Bank Transfer (NEFT/RTGS), or if you would like to pay through Cheque/DD kindly contact me.
The bank account details are as follows:
Bank Name: PUNJAB NATIONAL BANK
Bank Branch: 34, C.S.P SINGH MARG, NEAR CIRCUIT HOUSE, PRAYAGRAJ-211001
Account Name: SYED ABDUL QADIR MEMORIAL TRUST
Account Number: 09082010009140
IFSC Code: PUNB0090810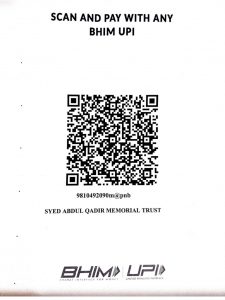 For any further information or query you can get in touch with us.
Ms Baran Farooqi:
+91-9810492090,
baranfarooqi2@gmail.com
Gift Brighter Future This Financial New Year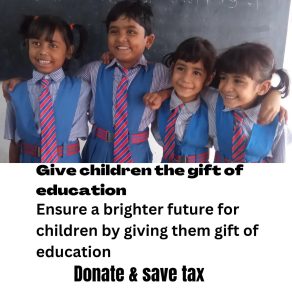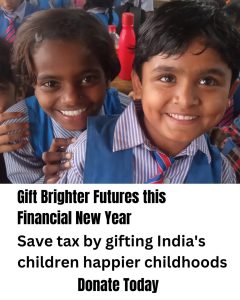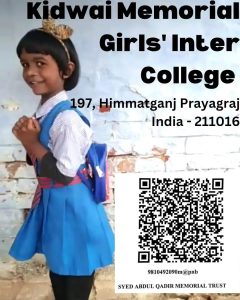 Kidwai Memorial Girls' Inter College needs your support